The Events Booking Manager is an Easy, Low Cost Events Ticketing System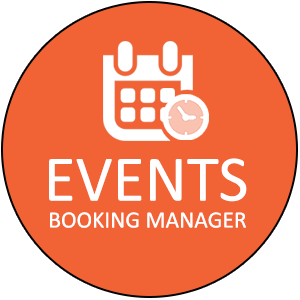 Oh yeah, The Events Booking Manager is an Easy, Low Cost Events Ticketing System.
An Economical Events Booking and Ticket Sales System
Got events? Need to sell tickets? Shocked by the costs associated with your current ticket sales system? Looking for an EASY and AFFORDABLE solution?
The Events Booking Manager provides a free program with a small fee added per ticket sale for light users.
If you manage regular events, there is a subscription program that will enable you to save hundreds or thousands of dollars in fees each year because you pay a flat monthly fee for unlimited events and unlimited tickets.
It is time to take a look at the Events Booking Manager!
Events Booking Manager Features
You can easily Create an account, log in to the system and Edit and manage your profile.
Create an event. Book tickets for the event and see your Upcoming events, Past Events and Saved Events.
Login via Twitter, Google+ or LinkedIn.
The Events
Any registered user will be able to create an event on the platform. The authorized user will have access to either modify or delete the event he/she has created.
Any registered user will be able to book a ticket(s) for an event.
Need to cancel a ticket booked for an event? No worries our platform manages it very well!
We have an efficient algorithm in place which takes care of your tickets available for sale; all the canceled tickets will get back to the available tickets pool.
An Event Map will be added once the event address is entered and a ynique QR code will be generated once the ticket is purchased.
A Ticket with the QR code will be sent via email.
The user can bookmark the event to review it at a later stage.
Event Creation
You can Modify/Delete events, book an event ticket(s), cancel event booking.
You may choose to absorb the fees or pass on to the buyer. When you cancel booking tickets they go back to the ticket pool.
The event creation includes an Event Map, QR Code, Event Category & Sub-category, Bookmark Events, Manage Events, Latest Event Orders and Revenue Earned.
There is also a Public/ Private Event Option.
The Event Dashboard
You can Download the Attendee List, see Event Order and Revenue Earned, see Ticket Sales by Ticket Type, Add Attendees Manually, access Event Snippet Creation, utilize Event Short Link Generation as well as Event Organizer Custom Link Generation and Event Custom URL Generation.
Search

You can search events by name and access the advanced search: The search bar on the home page provides an efficient and advanced search function. A user may need to type the event name & platform brings the best matching event suggestion to the users.
Additionally, a persistent search bar will be available in the header navigation. Users will be able to search for an event right from any page of the website. It utilizes the same algorithm as the home page search does.
Payments

Paid events get booked only after receiving the full payment and the program comes with standard Cardpointe & Stripe payment gateways.
Tickets

The event booking will be only available until the tickets for the event is available. Every successful booking (free & paid events) will deduct the ticket count.
On cancellation, the ticket will get back to available ticket count.
A user will receive a receipt from the payment gateway for the payment he/she made while booking and a booking confirmation email from our platform.
Optional
Event Organizer Mobile App (iOS and Android)
The mobile apps have an Attractive Dashboard, Organizer Login, QR Code Scanner. You can see the Event Attendees List, Gross Sales Tracking and Orders List.
User App (iOS and Android)
Users can Sign Up, Login, go to Landing Page, Like/Bookmark Event, Share event on social media, Search Event by category, Search event by event name, Book Event Tickets, Get a ticket on the app, See Upcoming events, See saved events and access their Profile Settings.
The Events Booking Manager is an easy to use and feature rich application. Check it out!
https://www.eventsbookingmanager.com/
-----------------------