Small Businesses Can Get More and Better Reviews with Locals.Reviews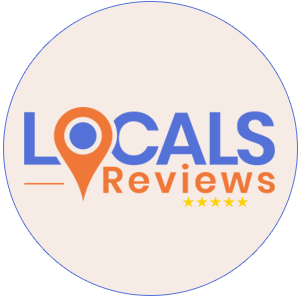 Local Business Owners Can Take Control of their Business's Reviews Process and Get More Great Reviews
Is your business receiving the reviews that it deserves? You can take action to get more and better reviews that will help you make more money.
Local Business Owner Verified Business Reviews
A Forbes YEC survey asked this question: "On a scale of 1-10, if you narrowed down two professionals you liked, but one had much better reviews online, how much would that impact your final decision?"
They discovered that eight out of ten people simply go with the one with more and better reviews.
Locals.Reviews provides a platform that enables local, small business owners to get the reviews that they deserve.
How Local Businesses are Unfairly Hurt by Negative Reviews
Reviews play a powerful role in helping would be customers make a decision about doing business with a local company.
Starting a new business relationship is risky. Your potential customers want to eliminate as much of that risk as they can. One of the easiest ways for them to confirm places they will consider doing business with is to check out your business's reviews.
When it comes to winning a new customer, your online reviews are mission critical.
False Reviews
As a small business owner, you can suffer by receiving false reviews. Most reviews platforms only require an email address and the most basic information from people before they can start leaving reviews. There is usually nothing done to confirm the validity of the reviews. So, if persons become angry with you for any reason and they decide they want to hurt your business, they can, by leaving a false review.
Businesses have been negatively impacted in this way most often from former employees or previous other relationships gone bad.
Erroneous Reviews
We have interviewed people that have had terrible reviews left for them erroneously. One business owner had a review left for them saying that they were not only a terrible company, but he was a terrible person and had punched someone in the face. The reviewer was actually leaving the review, having most of the facts of the incident accurate, with one glaring exception: they left the review for the wrong company!
Bad Reviews Left Out of Frustration
The greatest number of negative reviews are not left falsely or erroneously, however. They are left out of frustration when the consumer cannot find any other way to resolve a legitimate business complaint. Fortunately, there are things you can do to mitigate this!
Four Steps to take in Managing Your Business's Reviews
1. Locate every platform where reviews have been or will likely be posted for your business.
Some of the top reviews sites are: Google, Facebook, Amazon, Yelp, Trip Advisor, Yellowpages, the Better Business Bureau, Manta, Foursquare and Angie's List.
Google, Facebook, Yelp, Yellow Pages, Better Business Bureau and Manta are used for any business.
Amazon is used for e-commerce related businesses.
Trip Advisor is used for travel and restaurants and Foursquare is used mostly for restaurants.
Angie's list is used for service related businesses.
There are many others, of course and several that are industry specific, like Zomato for restaurants and Healthgrades for the medical services industry.
2. Claim your business with each platform.
There is typically a process where you can visit the reviews site and complete a process to manage the reviews with the platform. You'll want to be able to interact with the reviewers and be as proactive as you can be.
3. Respond to EVERY review.
Personally thank those that have left positive reviews for you. Respond professionally to those that have left unfavorable feedback for you and try to resolve why they did so. Finally, DEFEND yourself if you have received an unfair review. Always be professional and courteous, but defend yourself when you need to.
4. Facilitate the Reviews Process.
You not only need to discover where you have reviews and deal with reviews that may be years in the past of your business, but the very best thing you can do is begin to actively encourage feedback from your customers on your own website.
You may be able to "create a shortcut" for your customers to more easily leave a review by logging in as owner to the reviews platform and collecting a snippet of code that you can place on your website, but we have found something better for you!
Create an account with Local's Reviews and manage your local business's reviews process from beginning to end!
How Local's Reviews Works from a Customer's Perspective
In order to try and maintain valid reviews, Local's Reviews are individually verified and the process involves two steps: 1) Feedback and then 2) Reviews.
Step 1: Feedback
Your feedback is sent directly to the business owner or manager. To validate your feedback, they request that you provide your name, email and phone number.
Note that this information is only shared with the business owner and is NEVER published.
See their Privacy Policy here.
This enables them to contact you if necessary.
Step 2: Review
We encourage business owners to link to at least two or three other reviews platforms.
If the business owner has added reviews platforms, after providing your feedback you will see them on the next screen.
For your convenience, your feedback has been copied to your device, so all you need to do is paste into the additional reviews platforms of your choice.
How Local's Reviews Works from a Business Owner's Perspective
Customer feedback is sent directly to the business owner or manager. To respond to the feedback, you login to your admin panel.
You will see the feedback from your customer.
The feedback they have provided will post on your website according to how you have set up the program. (You may also control this manually on your own website).
You can read their feedback and respond accordingly by posting your reply and/or contacting them.
Your business's Net Promoter Score is automatically updated.
Local business owners have full control over whether or not the feedback is displayed on at locals.reviews or on your website as a review.
What is NPS or Net Promoter Score?
What is NPS or Net Promoter Score?
Understanding the Net Promoter Score – NPS
Just one question can help your business understand how well you are serving your customers!
Asking your customers how likely they are to refer you to a friend or colleague will help you establish your Net Promoter Score (NPS), developed by Satmetrix.
This composite score will tell you how you are doing!
You don't have to GUESS how customers feel about your product or service, you can know as well as:
identify your successes
reveal your weaknesses
discover opportunity for improvement
How NPS Is Determined
Customers respond on a 0 to 10 point scale for how likely they are to recommend you to someone and their responses help form your Net Promoter Score. To calculate your company's NPS, take the percentage of customers who are Promoters (rate you 9 or 10) and subtract the percentage who are Detractors (rate you 6 or below).
Responses are categorized into 3 types:
Promoters rate you a 9 or 10 and are happy, loyal customers that will keep doing business with you and refer you to others. They provide and fuel growth for your business.
Passives rate you a 7 or 8 and are satisfied customers but less likely to refer you and more likely to be swayed to another business if reached with the right offer or message.
Detractors rate you at a 6 or lower and are unsatisfied customers that can damage your brand and business with negative word-of-mouth and even negative online reviews.
How Local's Reviews Differs from Other Business Review's Platforms
A Local Focus for Business Reviews
Local's Reviews has a unique spin in this regard. The platform was created primarily to help small businesses that provide goods and services to their local geography. So, when a business's customer provides feedback, they are asked how long they have lived in the are and for how many years they have done business with the company for which they are providing feedback.
If they are from out of the area, they indicate that as well. "Out-of-towners" are not excluded from the process.
The "Where do the local's go?" and "What do the local's do?" questions are answered by Locals.Reviews.
A Lower Cost for Business Review's Management
There is a free program as well a lite program ($25/mo) and complete program ($50/mo). Of course, prices are subject to change and you should visit the website for current costs.
-----------------------